Michael P. Fralinger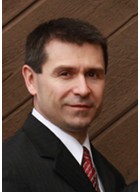 Michael P. Fralinger is a managing shareholder of the firm. Mr. Fralinger focuses his practice on all facets of land use, business sales and acquisitions, and residential/commercial real estate transactions. Mr. Fralinger represents commercial and residential developers, businesses, homeowners and landowners throughout the southern New Jersey area in connection with planning and zoning applications to municipal and county land use boards seeking site plan, subdivision, variance and other land use related approvals. Additionally, Mr. Fralinger handles all aspects of business asset and real property sales and acquisitions including business formation for acquisition, negotiations, contract drafting and review, and settlements. Mr. Fralinger also has extensive experience in commercial litigation having represented individuals, businesses, developers and lending institutions in a variety of disputes, including contract, construction, land use, real estate tax and foreclosure.
Mr. Fralinger was admitted to the New Jersey Bar and the United States District Court of New Jersey in 1996. He is a native of the Bridgeton area, and a graduate of West Chester University and Widener University School of Law. Before joining the firm in September of 1997, Mr. Fralinger was a Law Clerk to the Honorable Michael Brooke Fisher, J.S.C., in the Superior Court of New Jersey, Law Division, Cumberland County.